NEW ARRIVALS

This new arrivals page is a place where we will put some of the new things we have to offer. It may include completed custom builds, new and used stock instruments, parts and other products. Please call us at 702-597-0147 M-F 9am to 5pm if you would like to place an order or if we can be of any assistance. You can click on the links or the photos to take you to the instrument's product page.
This just in...
Roman Guitars on Instagram
Twitter
Facebook
Crate ELB01 Bass
Hand Made Custom Stained Glass Guitar Art
Fender American Elite Series Stratocaster Olympic Pearl White
Charvel Pro Mod DK24 HSS Primer Gray
Roman Scorpion, USA Made
Fender Standard Stratocaster HSSFR Body & Parts
Fender Squier Affinity Left Handed Body & Parts
Jackson DX10D Body & Parts
Jackson DK-2L Left Handed Body with Seymour Duncan USA Pickups
Fender Telecaster Thinline 1968
Mosrite Joe Maphis with Ventures Logo
Ibanez George Benson GB-10 Vintage 1984
Gretsch Vintage Country Gentleman G6122
RC Allen Ambassador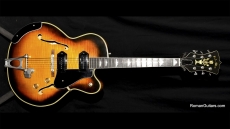 Ace Frehley Signed and Numbered Lithographs
Loc-Nar Custom Guitar
Kramer Classic Series Reissue
Kramer Focus 4000 Metallic Red
Quicksilver Showroom Model
Accent CS-2CE Acoustic Electric Cutaway Folk Guitar
Accent CS-2 Acoustic Folk Guitar
Catala Classical Guitar
DigiTech XDV X-Series Digital Reverb Pedal

Fender Texas Lonestar "Fat" Stratocaster in Taos Turquoise
Steinberger USA GP4T Black, Vintage USA with Trans Tremolo!
Rickenbacker 330/12FG
Gibson Les Paul Standard 50's Style Neck
Mosrite Celebrity
Ibanez RG7620BK Seven String
Ibanez 1970's 2351 "Lawsuit Era" Les Paul Style Gold Top
Quicksilver Korina and Quilted Maple
Pearlcaster Custom in Korina

As Mosrite Guitars gets ready for their future endeavors they have consigned a few special instruments for us to sell for them
Fender 1969 Twin Reverb Silver Face
Dean 30th Anniversary ML
Steinberger GP4 Black
Fender Squier Autographed by The Rolling Stones
Ibanez RG570FBL Customized
Rickenbacker 370/12RM Roger McGuinn Signature Model
Dean Markley K-75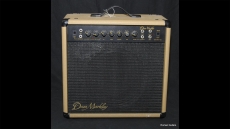 Jackson KV2 Black Warehouse find, new old stock!
Mosrite Mark I The Ventures Model '63 Side Jack
Jackson Misha Monsoor Juggernaut HT7 Laguna Burst
Hamer Steve Stevens
Taylor GS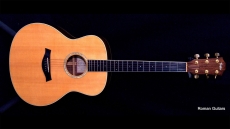 Ibanez Prestige RG7521LWFX-HAB
Kramer Pioneer Bass 1980/1981
Guild SB602 Pilot Bass 1984
Ibanez SR480NT
Music Yo-100 (A Division of Gibson) Autographed Guitar
Quicksilver Swiss Cheese Blowout Sale!
Baker B1 Spalted, Flamed Top
RKS Original Hollowbody
Marshall DSL 5C
Ovation Custom Legend 1869
Kramer Ferrington KFT-2
Kim Schwartz KLS Custom
Abstract Pagan Dark
Gibson Les Paul 1997 Custom Shop Red Sparkle
Vintage Kramer Richie Sambora Guitar Body Autographed by Ted Nugent
Gracie PS-A Performer Guitar Stand
Ultimate Support GS100 Guitar and Bass Stand
Ultimate Support GSA Guitar/Bass Stand
Gibson Vintage Belt Buckle
Vintage Guitar Belt Buckle
Elvis Presley Centric Clock
Fender "Tour Manager" Wrist Watch
Sid Vicious Action Figure
Behringer Vampire LX1200H Modeling Amplifier Head
Behringer V-Tone GMX212 Modeling Combo Amplifier
Dean Markley USA Made 115-FH Cabinet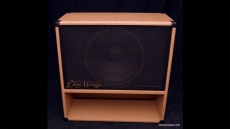 Sebring JS20 L5 Hollowbody

Samick Artist Series Edition SAT-650
Mini Replica Guitars, Amazing Detail!
DeArmond Pilot Pro V
DeArmond Pilot Pro
DeArmond Guild Starfire
SX Vintage Series Custom Made Bass
Fender American Standard Stratocaster
Fender Squier J Bass
Hondo The Sting
BC Rich Body Art Collection September 2003 Vampirella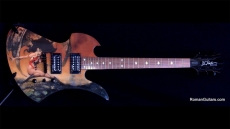 Roman Glock 22 Black Korina Body
Baker B1 Spalted and Flamed maple Top
Roman Abstract Mercury Bass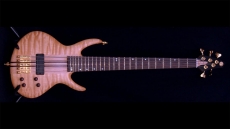 Scorpion CBGB, USA Made
Steinberger XM2 Series Bass in Black
Warwick Corvette Pro Line once belonging to Kip Winger
Jackson USA Soloist Custom 1990
Gibson SG Showcase Limited Edition
Gretsch Americana Series The Showdown Limited Edition
Steinberger GP2 in Black
Steinberger GM4 in Black
Centurion Medallion Grade
Pearlcaster Scepter with Premium Cocobolo Top
Steinberger XM2 Bass in White
Quicksilver Flatliner with Blue Face Plate & Vine Inlay
Gretsch Brian Stezer Nashville Signature G6120SSU
J. Frog Glock 24 Marbelized White
SWR LA-10 35W Bass Combo Amplifier
Traben Array
Roman Abstract Gladiator
Quicksilver Flatliner Black with Chrome Top Plate
Steinberger GM4 in Black
Mosrite Mark XII Ventures Model 12 String Vintage 1966
Jackson Warrior Seven String Custom Shop USA
Jackson KV2 USA Select in Metallic Black
Kramer Gene Simmons Axe Bass
Gibson Les Paul Supreme in Heritage Cherry Sunburst
Crate VC-2110R Vintage Club Amplifier
Gibson Falcon Vintage Amplifier
Fender M-80 Head in Gray Carpet
Fender M-80 guitar Cabinet in Gray Carpet
OK, this is not a guitar, but a miniature replica of a Gibson Les Paul, signed by Les Paul himself!
Ampeg SVT810 Bass Cabinet
Gibson Lucille Signed by the Late, Great BB King
Fender Jaguar Bass
Ibanez BTB780PB
Ibanez BTB775PB 5 String
Ibanez 5 String Fretless SR305F in Pearl White
Roman Abstract Phantazm
Washburn Vintage 1980's B-20 Bass
Synergy DK Vintage Keyboard Synthesizer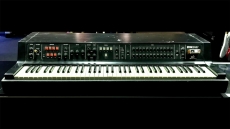 Jackson USA Custom Shop SLS - Super Light Soloist
Maliposa El Cornkeestador CD-37 by John Alden Robinson
Abstract Tiberius Custom with Walnut Top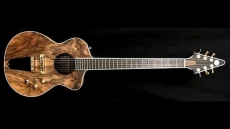 Fender Squier Affinity Series Stratocaster Black on Black
Yamaha RBX260 Bass
Fender Bassman 25 Amplifier
We discovered a limited supply of these awesome Knucklebonz limited edition rock star statues!
Jackson RR5FR Ivory with Black Pinstripes, MIJ Warehouse Find!
Quicksilver in Gloss Black
Fender Stratocaster Black Vintage 1974 USA
Mosrite Celebrity Vintage 1967 USA
Jackson RR1 Randy Rhoads USA Select Quicksilver Color Finish, NOS Warehouse Find
RVC Blues Deluxe Fully Loaded with Premium Options
Antonio Loriente Marietta C
Ibanez 2846-12 Vintage 1976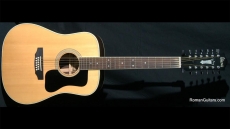 Ramirez Madrid 4E
JET Earlewood Supreme with Beautifully figured Maple in Caribbean Burst
JET Earlewood Supreme Highly Flamed Maple in Caribbean Burst
Mosrite Vintage Mark I Ventures Model in Candy Apple Red
Roman Custom Scorpion Rebel Hybrid
Roman Blues Deluxe Spruce Top in Transparent Red
Eastman Roman Jazz Deluxe Custom
Fender 1998 Stratocaster Plus with New Custom Crash Style Graphic Paint Job
Quicksilver Traditional Paul Crook Custom
LSR EB-1 Lacewood Headless Custom Guitar.
Steinberger GM 4 in White
Quicksilver Traditional with highly figured Quilted Maple top and Black Korina body.
Gibson Les Paul Junior
Amplifiers

Recently acquired amplifiers which include the following: Marshall JCM800 2204 &1960A in White, Engl Ironball and 112 cabinets, Peavey 5150 heads, 412 cabinets and Combo, Soldano Hot Rod 50 Plus Snakeskin and 412 cabinet, Hughes & Kettner 412 cabinets and Puretone heads, Blades Firebolt, Line 6, Ampeg, SWR.
Click Here to go to the Amplifier Main Page

Epiphone ES-333 Riviera Tom Delonge Signature model contest guitar distressed by Tom Delonge and signed by Angels & Airwaves.
Washburn USA Custom Shop DD NY Yankees Signed by NY Yankees Hall of Fame Member Wade Boggs!
Washburn DD67 Signature model 7 string previously owned by Paul Crook in Meatloaf used on "If it Aint Broke, Break It" and "Bat Out of Hell III".

Fender Mastergrade Custom Telecaster Gold Sparkle & Leopard Fur...Awesome!
Fender Jazzmaster Vintage Reissue Dakota Red.
Fender Jazzmaster Three Color Sunburst.
Fender Jaguar Candy Apple Red.
J. Frog Skull & Bones.
Eastman Roman Blues Deluxe, low serial number.
Kramer KS400 in Sunburst.
Jackson DK Series in Eerie Dess Swirl.
Jackson Custom Select RR1T with Transparent Matte Black Finish and Solid Black bevels, amazing looking instrument!
Just completed! New Roman Blues Deluxe with all top end features and options! Available now! Click the photo to take you to this instrument's detail page.
This just in, a vintage 1984 Hamer USA Blitz Guitar. Signed by the band Krokus. Click the photo to take you to the instrument's information page!
Another recent acquisition, the Fender Jerry Donahue Hellcaster Limited Edition Stratocaster. One of the most interesting Fender guitars made in recent years. Click the instrument's photo to take you to it's informational page!
Roman Guitars is very happy to announce that we are now carrying Madison Amplifiers! Click the Madison logo to take you to our Madison Amps product page!
Rickenbacker John Lennon 355/12JL Limited Edition Signature Model. Click on the photo to take you to this instrument's product page!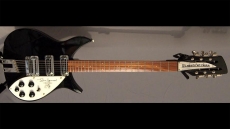 Roman Lowrider Bass with Tension Free Neck and Beautiful Quilted Maple Top. Click on the photo to take you this instrument's product page!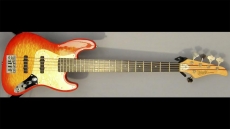 Roman Quicksilver Wanderer, the first Quicksilver Wanderer made with the Quicksilver Direct Coupled Neck Joint. Click on the photo to take you to this instrument's product page!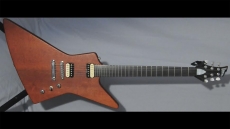 New Pearlcaster Custom Build Available!
If you would like to know more about this new in stock and on sale custom build, you can find it Here!
Warehouse Find!
While technically not a "new arrival" we did just uncover this in our warehouse. It is new albeit older stock, Jackson KE3M Yellow with Black Pinstriping on the front and back. Japanese made and of excellent quality. There were only 50 of